LED Smart Light Bar(2Pack) - RGB Rainbow Color Control by Mobile or IR Controller, Ambient Lighting for Gaming Movies PC Room Decor(Support 2.4 GHz WiFi and Bluetooth)
$59.99 $39.99
● Syncs With Your Music

● Hassle-Free Voice Control

● Smart APP Control Anywhere Anytime

● 3 Ways Easy Installation, Versatile Placement Options

● Reliable After-sales Service, Improve Your Entertainment Experience

● Fast Delivery Date: 2-5 business days

● Offer a one-year limited warranty

Exc
itin
g Lig
htin
g Exp
e
rien
ce
The Smart LED RGB light bars create a specific atmosphere, with a built-in mic,
the light bars sync smoothly with your music or ambient sounds emitted from your TV/PC.
enhance your gaming, music, and movie experiences with vibrant lighting,
16 million colors & 12 preset modes, and segmented color control,
perfect for live concerts, karaoke nights, back tv light, or gaming.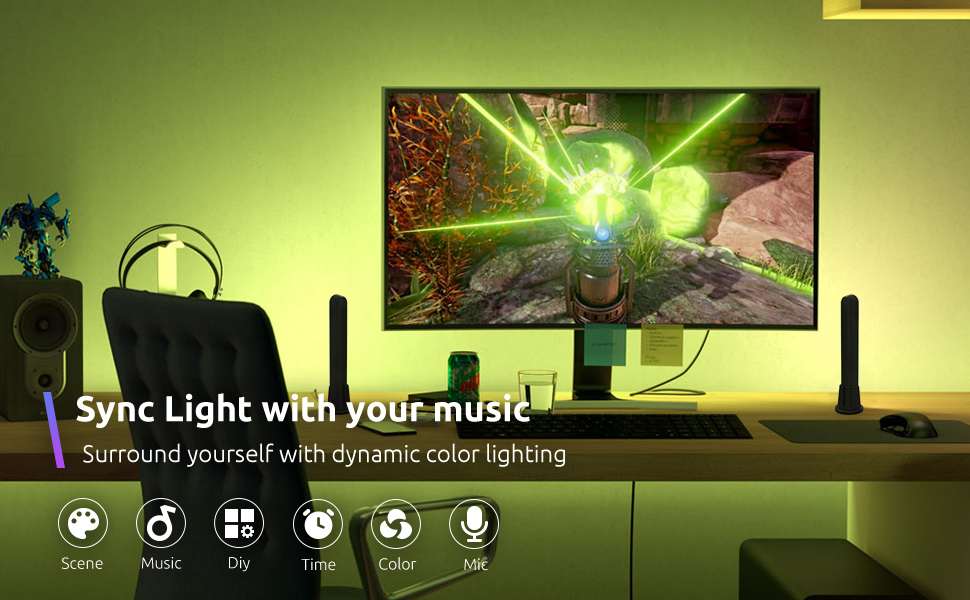 Ha
ssl
e-F
ree V
oic
e Co
ntr
ol
Compatible with Alexa and Google Assistant, so you can use simple voice commands with Alexa or Google Assistant
to control RGB light bars Power on/off, adjust brightness, or change colors and scene modes, free up your hands
(Note: Before connecting to WiFi, please adjust your WiFi to 2.4 GHz and turn on your phone Bluetooth)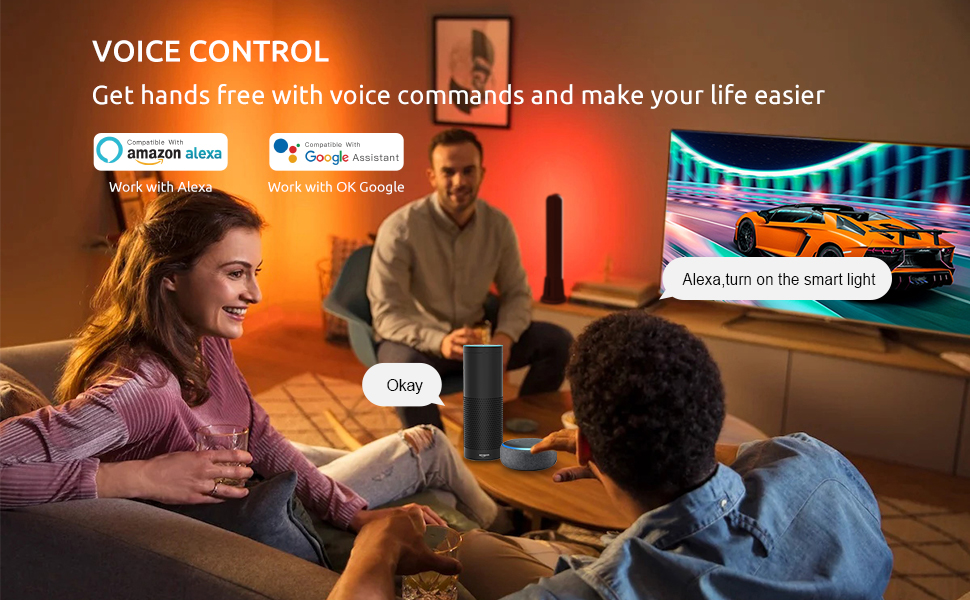 Multiple Scene Modes

Our Ambiance Bar Light features many built-in pre-set scenes for Multiple occasions,
you can also DIY your own scene.
Various scenes to use. Enhance movie, gaming, and music entertainment experience with vibrant lighting and 16 million colors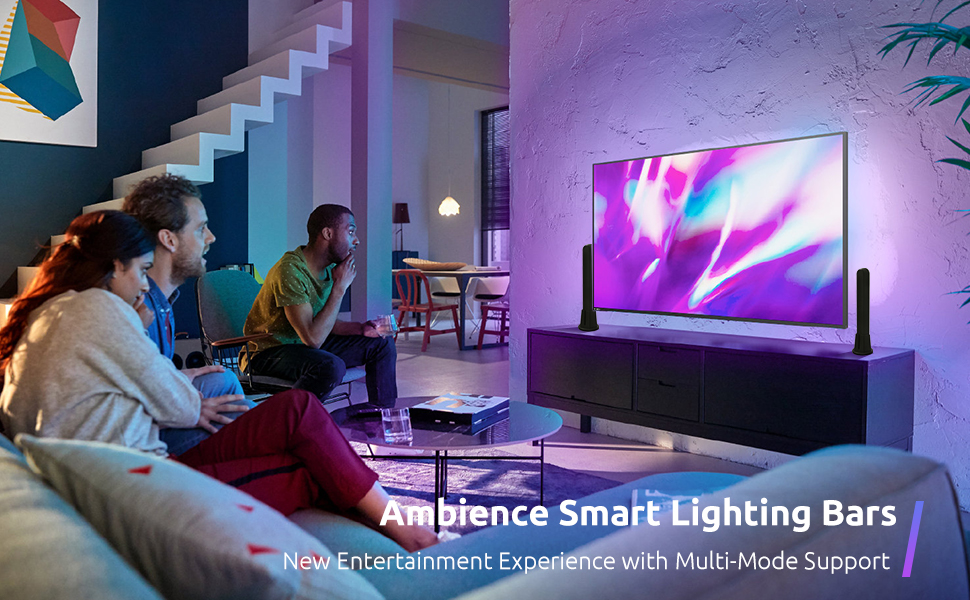 3 W
ay E
asy
Con
tro
l
The smart led light bar can be controlled by APP: Download the "Tuya Smart" APP
to easily control the light bars, enjoy the smart life brought by fingertips;
In the package, there is a 40 button IR remote controller allowing for a variety of fantastic color modes,
including music and Scene mode, Timing, Brightness, etc;
The control box, to switch the lighting mode, power button, etc. ut it is flat without using the stand and base.

3 W
ays
Eas
y In
sta
lla
ti
on
The smart ambient light bar could be installed in different ways using the bases and brackets included in the package,
you can attach the light bars with brackets to the back of your TV with strong adhesive.
Or, use the bases provided for an easy stand next to or behind the TV/PC.
You can also put it flat without using the stand and base.