Digital Clock Large Display, LED Alarm Electric Clocks Mirror Surface for Makeup with Diming Mode-Black
$32.98 $29.99
> Large LED screen display

> Brightness options : Bright, medium and dark

> Four-digit time display : Hour, minute (12/24 hour system)

> Snooze function, 5~60 minutes delayed can be set for unlimited times.

> Contains a CR2016 button battery. LED is bright when only USB power is supplied.

> Built-in two USB output ports, can charge two different mobile phones at the same time. (Available for Android or IOS systems)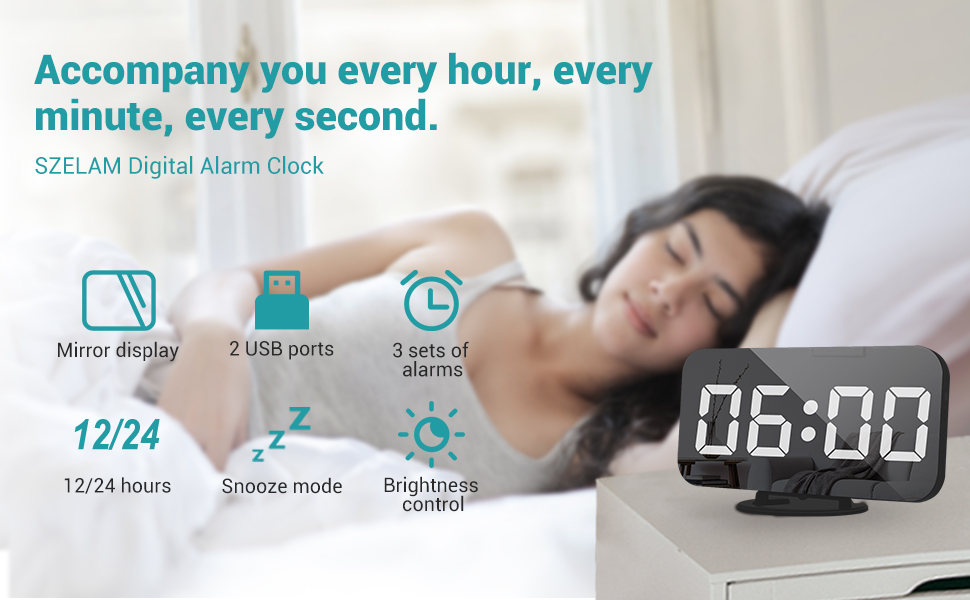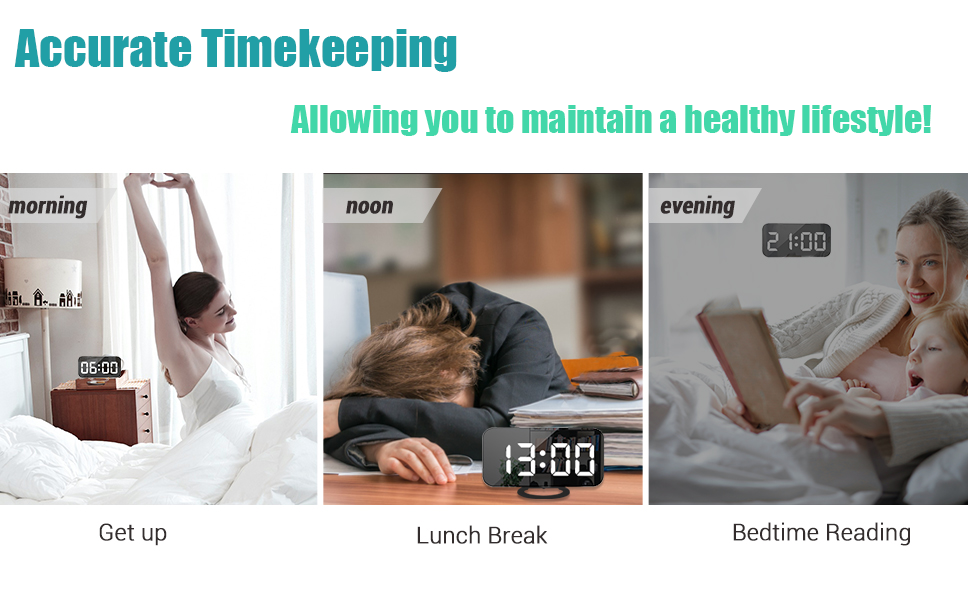 Features:
DIGITAL ALARM CLOCKS MIRROR SURFACE: SZELAM alarm clock combines with makeup mirror, alarm clock and time display function. The HD mirror display can map your beauty, you can also use it as a mirror for your beauty and makeup while watching the time. The specially designed mirror surface is not easy to be stained with ash which can be cleaned with a single rub to restore the original clean appearance. You can put it upright, put it flat or hang it on the wall, just choose the way you like it
A QUIET SLEEPING ENVIRONMENT&LUMINOUS FUNCTION: Unlike Mechanical alarm clock that keeps ticking, affecting the quality of your sleep. We SZELAM clock is quiet, allowing you to get rid of the noise of the night and sleep peacefully. The user-friendly designed luminous function allows you to see the time clearly at night and does not need to turn on the lights.When it is 12-hour system, it will not display AM before 12 noon but will display PM after 1 PM
3-LEVEL BRIGHTNESS SETTINGS: Other clock have only one level of brightness, which will be particularly dazzling when the lights are turned off at night, long-term past will cause damage to your eyes. We SZELAM alarm clock adopts highly sensitive photosensitive sensor, which can automatically adjust the display brightness according to the brightness of the environment, or manually set the Bright-Medium-Dim 3-level brightness, better for your eyes and more environmentally friendly
MEMORY FUNCTION&Dual USB PORTS:When the external power supply is powered off, the hold time and various settings are unchanged. The time after the external power supply is cut off is not displayed, so as to avoid repeating the settings next time. Dual USB ports allow you to charge two devices at the same time, say goodbye to the embarrassing situation of lack of electricity while playing phone in the bed
5-60 MINUTES' SNOOZE FOR HEAVY SLEEPERS : The big snooze button helps you easily turn off the buzzer but don't need to open your eyes and enjoy five minutes of sleep. The clock will alarm every 5 min and the default Snooze time is 2 min until you turn off the snooze mode by pressing any other buttons. You can also set snooze time by yourself. Perfect for heavy sleepers
Details: Product: Digital Alarm Clock Brand: SZELAM Colour: Black Electronic alarm clock—combines mirror, clock, alarm clock, USB charging and other functions. It is not only a clock, but also a fashionable modern art decoration, very suitable for places such as bedroom, living room, office and so on. It is a necessity for your life and work, and the best gift for lovers, children, parents and friends. Feature: ⏰6.5 INCH LED MIRROR DISPLAY — not only an alarm clock, but also a makeup mirror. ⏰DUAL USB CHARGING PORTS — you can power your mobile phones, tablets, etc. at the same time, so you don't have to worry about charging nowhere. ⏰3 ALARM FUNCTION — can remind you and your family at different times in the morning, noon and evening. ⏰3-LEVEL BRIGHTNESS SETTING — you can freely adjust the display brightness as needed, which saves energy and protects your eyes. ⏰2 BRIGHTNESS CONTROL MODES — Built-in photosensitive element, can automatically adjust the screen display brightness according to the room light intensity. ⏰SHUTDOWN PROTECTION — equipped with a button battery, you can save the time and alarm settings when the alarm is off. Custom mode selection: ⏰12/24 HOUR SYSTEM — you can switch freely according to your own habits. ⏰SNOOZE MODE — After the first alarm, you will get 5 to 60 minutes of lazy bed time, and then remind you again. ⏰SLEEP AUTOMATIC SLEEP — at 22:00-6:00, the alarm clock will automatically display to ensure your sleep. You will get: Alarm clock x 1 USB cable x 1 (without adapter) Button battery x 1 Instruction manual x 1 1 year warranty Note: The clock needs to be connected to a USB power supply to display the time and alarm clock; using a button battery alone, the alarm clock is in a sleep state, and the time and alarm settings can be saved.

Package Dimensions: 6.7 x 3.7 x 1.7 inches