Halloween LED DJ Mask Music Festival Full Head Masks Helmet for Men Women Kids Thanksgiving Christmas Halloween Glow Mask
$32.99 $25.99
※ EVA material, non-toxic, sturdy and durable

※ Light weight, good ventilation, good sight, equipped with bright light bar

※ Unique appearance, fine workmanship

※ Suitable for people of all ages

※ Masks can be used on any occasion, such as Halloween, parties, carnivals, discotheques, clubs, birthdays, fancy dress parties, carnivals, carnivals, gifts, festivals and events

※ Perfect choice for Halloween masks, gifts for children or street dancing
Color: White

Features:

【HARD&NO SMELL】All of the mask is white body, Perfect match with Halloween Costumes, This dj mask is made of high quality natural environmental EVA material,CAN NOT BE FOLDED, not like the soft latex mask, So it won't affect your dance and sing when wear it,can be wear by kids/adults.
【BE THE FOCUS OF THE PARTY】Suit for Carnival,Easter Day,Music festival, Halloween Christmas decorations,Dress up party, KTV Bar party, Cos-play etc. when you wear this , everyone will attract with this novelty gifts, where to go is all the focus of conversation.
【EASY TO USE】The switch is inside of the dj mask,you can turn ON/OFF it at any time you want,white color, perfectly match for dj costume and other accessories.
【BR-EATHABLE&VISIBILITY】There are no obstacles in your sight and bre-athing.
【BEST GIFTS】The pattern is color changing, It can illuminate all the people around you, please feel free to contact us if you have any questions about the purchase.
Package Dimensions: 10.6 x 10.2 x 2.7 inches


Features:
Are you attending the party because there is no glowing mask in this grand festival?
This most avant-garde LED DJ mask is your best choice!
Material: EVA + EL wire To ensure that it will not block your sight or hurt your eyes.
in diameter Cover area: full face, super comfortable, can perfectly fit your facial curve.
The elastic of the adjustable belt can also be easily adjusted and provides optimal breathing.
Occasion: Halloween, party The original creepy mask does not light up and can also attract the attention of others.
The Halloween mask makes you stand out in any party, club or other holiday event.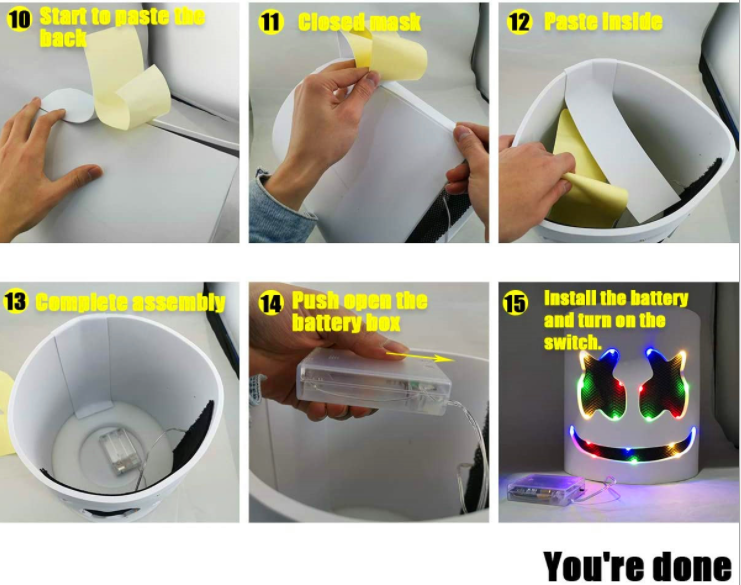 | | | | |
| --- | --- | --- | --- |
| 1. The package includes: 1 DJ Mask, 1 Top with Adhesive tape, 1 Remote Control, 1 Piece of Tape | 2. Tear off the tape on the top of dj mask top and paste it on the upper area inside the mask | 3. Adjust the position of the remote control, and keep the mask tidy to avoid wrinkles | 4. Finally, use white adhesive to stick to the joint of the mask |
Halloween DJ Mask -Music Festival Full Head Masks Helmet for Men Women Kids Thanksgiving Christmas Halloween Carnaval Glow LED Mask
Size can be adjusted: The head circumference is 8.3 inches, which is spacious enough for most children, adults, men and women.
Material and design: EVA material is used, sturdy and durable! The front part of the mask is designed with a mesh surface to make the mask more breathable without any obstacle to your vision and breathing. The elastic band with adjustable strap is also equipped with easy adjustment and maximum comfort.
3 lighting modes: Always on, flashing slowly, flashing quickly. Put the power controller in your pocket, you can hide in the dark and shine, creep and cool down on the wires like a god of death or a ghost. It requires 3 LR44 batteries to work(the package does not contain batteries) and can be adjusted by pressing the buttons on the controller. The electroluminescent film is a cold light source. No heat or ultraviolet radiation when working, no harmful effects on human body.
Applicable to all occasions: This DJ mask is a conversation starter that can ensure you stand out from the crowd. No matter where you are, you will be noticed by others who are curious about your mask. Suitable for people of all ages. Masks can be used on any occasion, such as Halloween, parties, carnivals, discotheques, clubs, birthdays, fancy dress parties, carnivals, carnivals, gifts, festivals and events. Perfect choice for Halloween masks, gifts for children or street dancing.
You May Like
Sale
Bluetooth Car Interior Lights 72 LEDs